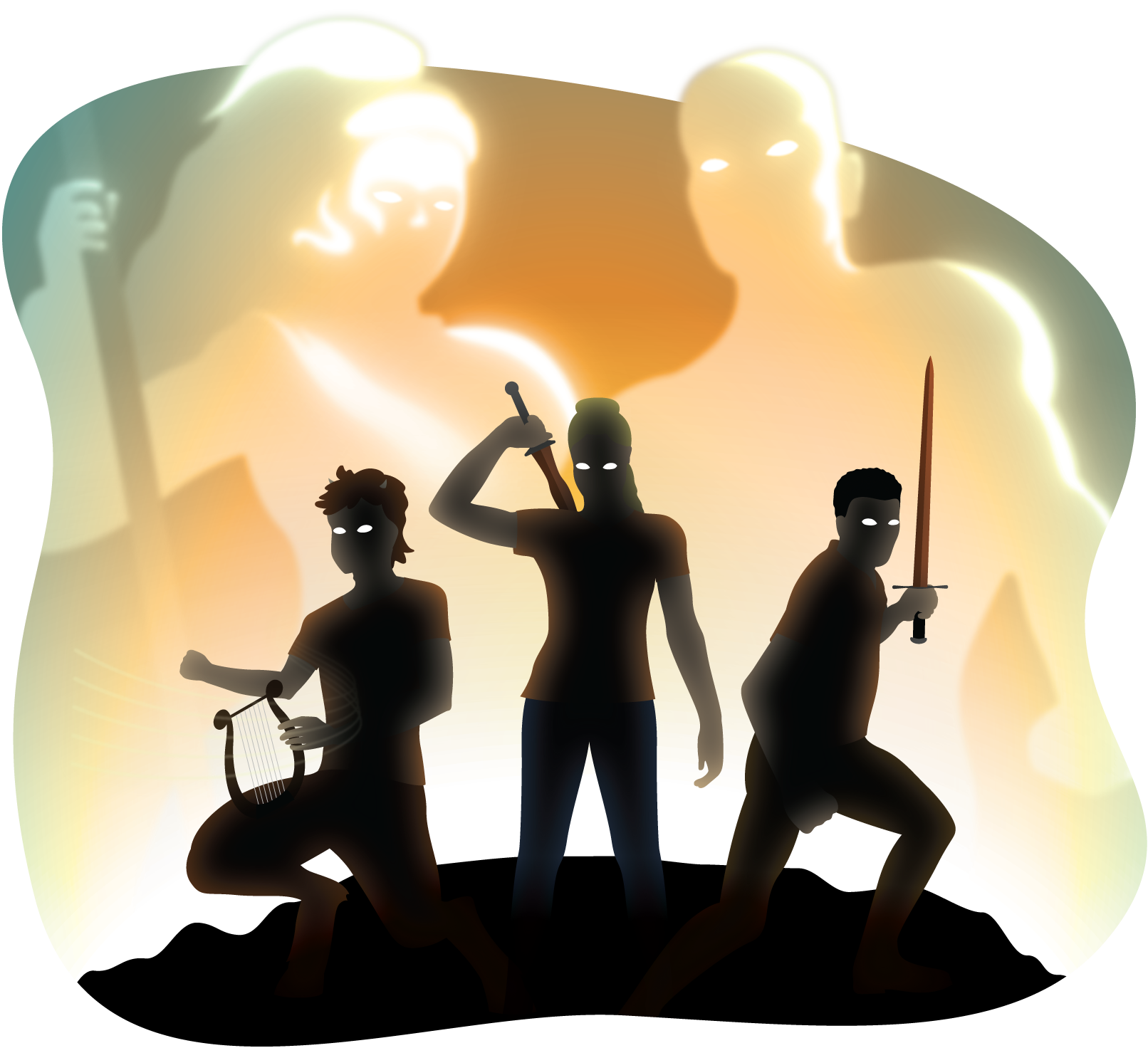 What do you need to know about Percy Jackson?
Knowledge of the Percy Jackson books or movies is not required, but does gives color to the world through references to known characters.
What do you need to know about Dungeons & Dragons?
You or part of your group need a base understanding of the game, and one needs to be able to be the Dungeon Master.
Available character options
All characters are human demigods that are 3rd level and between 9 and 11 years old.Use the "Human traits" as specified in the "Player Handbook", but alter the languages as following: "You can speak and write English and an additional language, and you can read Ancient Greek, but you have difficulty reading English and your additional language because of dyslexia."
Additional Races (like Centaur, Cyclops, Dryad or Satyr), Classes and extra character options that each of the 20 gods bestow can be found in "Percy's Olympian Handbook", available soon in the shop.
The available classes are linked to the chosen godly parent. The options in this one-shot are:
Athena – Goddess of wisdom
Symbol: Owl
Classes: Fighter, Wizard or Knowledge Cleric
Ares – God of war
Symbol: Boar
Classes: Barbarian, Paladin or War Cleric
Apollo – God of the Sun
Symbol: Sun
Classes: Bard, Monk, Ranger or Light Cleric
Demeter – Goddess of harvest
Symbol: Cornucopia
Classes: Druid, Monk, Sorcerer or Nature Cleric
Hephaestus – God of the forge
Symbol: Anvil
Classes: Artificer, Wizard, Forge Cleric or Light Cleric
Aphrodite – Goddess of love
Symbol: Rose
Classes: Bard, Paladin, Sorcerer or Life Cleric
Hermes – God of trade
Symbol: Caduceus
Classes: Fighter, Rogue, Warlock or Trickery Cleric
Quick start character sheets are included in the product.
Choose your spells and abilities based on the domain of your chosen godly parent.
The players start without weapons or gear, so their starting AC is: 10 + Dex modifier (unless they have a feature like Unarmored Defense).
Introduction
The events of this adventure take place during the third book in the Percy Jackon series "Percy Jackson – The Titans Curse". The players are unaware that they are demigods at the start, or that gods and monsters exist. They were raised by their human parent who was forbidden to let you know of your heritage. During this adventure the PC's are asked to help with a fantastical, high-stakes mission.
Running this one-shot
This one-shot covers a lot that might happen during this adventure and goes into detail about how the locations the players come across look and feel. Despite that, players tent to do stuff, meet people and go to places they are not supposed to. It is your job as the Dungeon Master to fill in gaps where necessary and steer them back towards the main plot.
Text in boxes can be read out loud to the players when the conditions in them are met.
The normal humans of the world are unable to see the monsters or magical happenings because of the Mist. Roleplay the effects as you like.
Turn on a fitting music playlist and let the fun begin!
Enjoying this preview?
Find the full adventure in the shop. It includes printable documents of:
– An easy access, print ready version of this adventure
– 8 designs of the playable characters
– 4 designs of the creatures in this adventure
– 3 battlemaps
– 9 Quick start character sheets
All stats, attacks and any further mechanics of this one-shot are available in the product.

The story of these heroes starts in a way I haven't seen a story start before. It doesn't start in some dangerous Himalayan temple or hidden underwater city. This one starts by you [number of players] going on a three day field trip to Washington DC with your 6 grade class. It starts as well as might be expected. After a hectic bus ride, visits to a couple war memorials and a night with barely any sleep at a shabby hostel, you have now been dragged through most of the Capitol Building with it's many statues, marble columns and the Rotunda with the painted Capitol Dome. Who are each of you, how do you look, how well do you know each other and how are you enjoying this school trip so far?
As your class is on its way towards the gift shops, you [number of players] seem to be the only ones who see a huge plant vine pulling a girl in strange clothing into a room, while she in turn drags a weird half-human, half-goat boy along with her. While whizzing by she sees you looking and yells for your help while no one else seems to react. A second vine grabs the door handle and slams the door shut behind them. How do you react?
As you open the door you only need a second to take in the whole scene, almost like it is in slow motion. The half-goat boy is lying crumpled up on the floor and isn't moving. The girl is wielding a spear and is trying but failing to fight off the 5 plant vines that come from 5 plant pots around the room. In between you and the girl is a small handbag on the ground with an impossible amount of (celestial) bronze weapons spilling out. You see swords, war hammers and crossbows [all weapons are available from the list of p149 of the PHB]. Once you set your foot through the door frame, a glowing [symbol of their chosen godly parent] appears above your head and you feel a surge of energy and power flow through you. You feel ready for battle. What do you do?
Plant vines (medium plants)
Enemy stats, attacks and further mechanics are available in the full one-shot.
Hylla Ramírez-Arellano
NPC stats, attacks and further mechanics are available in the full one-shot.
She is a warrior of the Amazons, on a quest to find the Belt of Hippolyta to unite the Amazons by becoming their queen. Born in Puerto Rico and older sister to Reyna. Because of Percy Jackson they were kidnapped from Circe's island (in "The Sea of Monsters" book) and traveled the seas with Blackbeard and his men. After that Reyna went a different way and Hylla became an Amazon. She is still seeking revenge on Percy Jackson.
She is a demigod daughter of Bellona (the Roman Goddess of war) and Julian Ramirez-Arellano. When asked about her godly parent she will lie and name Enya as her mother (the Greek equivalent to Bellona).
Hylla won't talk about Roman gods or the Roman camp but will tell them about Camp Half-blood where Greek demigods are trained and taught about this world with gods and monsters.
She recognises the godly symbols that were above the PC's heads as those of the corresponding Olympian gods. She will explain that demigods all have a human and a godly parent which gives them powers and abilities based on the god.
In her bag of weapons she also has most items the PC's might ask for when they need anything.
Now that the last plant vine has fallen you get your first good look at the girl. She is athletic, lean and wearing a sleek black leather jumpsuit. She has glossy, long black hair, black eyes and a long white scar on her forehead. She approaches you and puts her spear back on her back. "Thanks! I would have been toast if it wasn't for you demigods. My name is Hylla, an Amazon warrior, who are you?"
"Now that we are all acquainted I want to ask you for your help. The Amazons want to help and protect those that can't protect themselves. Us Amazons are strong individually, but we need to be united under a queen before we can properly make a difference. Every year some of us go looking for the Belt of Hippolyta as it symbolises the authority of the Amazon queen. I want to be the one who either makes or brakes the prophecy". She walks over to the half-goat boy, shakes him awake and pulls him to his feet. "This is Harry, he is a Satyr and he is helping me break into the vault of Dionysus, the God of wine. The Amazons had a battle with Dionysus centuries ago and I suspect that he is the one who stole the Belt of Hippolyta as payback. We are the rightful owners so I'm here to take it back. Are you in?" [When asked why they should help she will explain it will hone their powers, it is going to show them the other side of the world and she can pay them if they ask for it]
When asked about the prophecy
In a singsong voice Hylla recites:
"A warrior will set out, looking for a queen,
And unexpected heroes shall enter the scene,
Looking to reclaim what has been stolen from dames,
Despite all efforts it shall end in flames."
"I know it sounds bad, but gloomy prophecies like these are not always what they seem. Either way I intent to find out."
After accepting to help
"Alright, lets pull off a heist! It's like in those movies like "Oceans 11" or "The Italian Job"… This is The Amazonian Job! You can take any weapons or armor out of my bag if you want because we need to be prepared [all armor options of up to 200 gp are available from the list of p145 of the PHB]. First thing we need to do is figure out how we open the hidden trapdoor at the foot of the huge 'Statue of Freedom' in the 'Visitors Center' and then get in without the crowds or guards noticing us. Any of you got a good idea?"
Enjoying this preview?
Find the full adventure in the shop. It includes printable documents of:
– An easy access, print ready version of this adventure
– 8 designs of the playable characters
– 4 designs of the creatures in this adventure
– 3 battlemaps
– 9 Quick start character sheets
All stats, attacks and any further mechanics of this one-shot are available in the product.

Harry the Satyr
NPC stats, attacks and further mechanics are available in the full one-shot.
Harry was fired from Dionysus' employment for accidentally eating his favorite wine goblet and was kicked out on the street. As pay-back he is helping Hylla try to break into the vault where Dionysus keeps his most prized possession. All he knows is that the entrance is at the foot of the huge statue of Freedom in the Visitors Center of this Washington Capitol Building.
He is too scared to go any further than the entrance.
The hall of the Statue of Freedom in the Visitors Center (Emancipation hall)
In this huge, well-lit, open room there are endless tourists, staff members and security guards. The enormous statue of freedom can be seen from any location in the room.
The statue of Freedom is a plaster model used for making the cast of the bronze statue on top of the building. 'Freedom' wears a helmet with an eagle's head, a dress with a 'US' clasp and she is holding a sheathed sword and a laurel wreath. It is standing on a black, marble base. 5 feet around the base is a small fence to keep tourists from touching the statue. While you are investigating the whole statue you notice small glowing letters on the base. Although you recognize them as a different language they are even easier to read than English. They read: "A grape is tasty, and elegant is a vine, having patience is hard, but it is worth it for ".
If the word "wine" is said but the public isn't distracted
More small, glowing letters appear reading "Can't open stairs in front of mortals".
Once the word "wine" is said while the general public is distracted
Part of the surrounding fence folds in and the floor around the base moves down until it forms a spiral staircase leading underground.
You walk down the spiraling steps and hear the opening close back up above you. The stairs further down are lit by torches with purple flames. It takes you about a minute until you reach the bottom. Finally there you arrive in a small marble chamber with a satyr that can barely stand straight and has his armor on backwards standing guard in front of a metal gate leading onward. Within reach of the guard is a huge red button on the wall and there is a key hanging around his neck. There is also a small wooden door to the side and a drinking fountain that seems to be spouting wine.
This Satyr named Jacob is very drunk. In this state he is very gullible and can be convinced of almost anything (DC 5). He tries to keep up appearances of doing a good guarding job though so through hiccups and slurring his words he will ask them questions to verify who the visitors are. His job is to guard this gate for 50 years and he has been here for 8 years. He has a little room behind the wooden door with a bed, a kitchen and his belongings. His job is to send anyone away except Dionysus or anyone here on his behalf. When there is a breach he pushes the red button and the hallway behind the gate will collapse.
If the red button is pressed
The first explosion breaks the ceiling of the entire hallway but also breaks open the gate. There is a split second window for the players to still run through the hallway while rocks start to fall. PC's running through have to make two separate Wisdom or Dexterity saving throws and take 1d6 damage for each failed roll. Hylla will run through immediately to continue her quest and if Harry is still around he will run back up the stairs to save his life.
When they get through the gate and hallway
You get to the other end of the hallway and enter a large stately room filled with statues, paintings, artifacts and artworks on pedestals. Although all of them have the same theme of depicting Dionysus, it clashes a lot because of the colors and materials used. There are wooden carvings, clay vases and golden jewellery and the paintings vary from grim to almost glowing with color. At the far end of the room you see a huge vault door with a golden wheel on it.
If any object in the room is touched OR if the vault door is touched without first finding the laser grid
You hear two large statue's of Dionysus spring to life behind you and they approach with weapons drawn. A golden statue that grabs a whip of black, metal grapevines from the wall and a marble statue wielding a weird staff with a golden pine cone on it (thyrsus rod). They look ready for a fight. Roll for initiative.
Golden Dionysus statue
Enemy stats, attacks and further mechanics are available in the full one-shot.
Marble Dionysus statue
Enemy stats, attacks and further mechanics are available in the full one-shot.
When they open the vault door
You turn the wheel and after a few rotations the door opens. I don't know what you were expecting stepping through a heavy, metal vault door, but I bet it wasn't a huge vineyard in seemingly open air. There are rows and rows of grapevines going on and on and nothing but blue skies and a hot sun above. In the distance you see some Satyrs and Centaurs picking grapes and collecting them in large baskets that hang like saddlebags on the sides of the Centaurs. Next to you stands a stone bust on a pedestal looking out over these fields. It turns to you and in a snooty voice says: "Welcome to the eternal wine fields of 1982's Chateau Latour. Here we pick the grapes for the one and only perfect wine. The '82 Latour has an amazing bouquet of black fruit, graphite, crushed stone and a touch of smoke, all with breathtaking precision. You can experience it for yourself for a limited time offer of 2,500 dollar per bottle. How many bottles can I put you down for?"
If the PC's walk completely out of sight in any direction they come back around to this vault door and the stone bust. The Satyrs and Centaurs are here out of free will and see it as a kind of vacation. They can't help the PC's but do know that the stone head can probably help but has to be tricked into talking about anything except wine. The Satyrs and Centaurs all come from different timelines and will return there when leaving. Exiting back out through the vault door gets you back to the same time and place you left. This also means PC's could take a long rest here.
Enjoying this preview?
Find the full adventure in the shop. It includes printable documents of:
– An easy access, print ready version of this adventure
– 8 designs of the playable characters
– 4 designs of the creatures in this adventure
– 3 battlemaps
– 9 Quick start character sheets
All stats, attacks and any further mechanics of this one-shot are available in the product.

Bust of Eparchides of Ikaros
This talking stone head and neck stand on a pedestal and can't do anything except watch and talk. He was made in 284 BC to celebrate the famous wine connoisseur Eparchides from Ikaros. The only thing he wants to talk about is wines, wine production and the history of wine. He also know how to get to Dionysus's main vault, but won't tell them because it has nothing to do with wine. He can be tricked to do so however by making the question of how to get there about wine. The main vault is back out the vault door, closing it and turning the wheel twice left, once right and once left.
Going back out the vault and using a wrong combination of turns brings them to either a wine storage, a wine production, a wine party or a likewise location.
Out the vault and using the right combination
You stand in front of the vault again and turn the wheel twice to the left, once right and once left. The door swings open once again but this time you find yourselves in front of a simple room with a pedestal in the middle. On it is a velvet pillow with a strange-looking belt made of interlocking gold links on it. Next to it is a boy with angelic wings that looks about 16 years old, admiring the belt. "Ah, finally a Amazon has made it all the way to the Belt. I am Comus and I can't let you get my fathers prize though, he stole it fair and square. Why don't you make a wish, what can I give you to make you go away?".
Winged youth
This is Comus, god of festivity and excess, and a Immortal son of Dionysus. He has taken it upon himself to protect this belt and attack anyone who tries to get it. Whatever the PC's wish for he will give them in the form of an attack and the fight will start. Example: If they ask for gold he will send a blast of gold coins in their direction.
If they attempt to take the belt or attack
"No!" yells the winged boy with such a force that he blows you all a few steps back. In a flash of light he grows and deforms until before you stands a horrific amalgamation of rings, eyes and wings that are surrounding the belt. Roll for initiative.
Comus – Godly form
Enemy stats, attacks and further mechanics are available in the full one-shot.
If Comus has less than 20 HP OR if half of the PC's are unconscious OR if the battle drags on too long
Suddenly Comus proclaims in a loud voice. "That's it, I've had enough, I'm going to finish this". He then floats to the ceiling and starts glowing incredibly bright and burning unbearably hot. Hella takes her chance and runs to the belt. When she picks it up she glows with a warm golden light and each of you heal for 10 HP for just being in the presence of the new Queen of the Amazons. The glee on her face changes quickly to fear however as she looks at Comus and yells: "He is going to bring the place down, we need to run!".
Any shield, vault door or hiding place burns up when tried, and any pausing or hesitation will result in 1d8 fire damage. If the red button at the gate was pushed and the hallway is full of rocks then Hylla will clear a path by punching though some of the rocks with her newfound 'belt power'. If they were let through the gate by the Satyr the gate has been re-locked and must be opened with force or magic before continuing to flee. The drunk Satyr has already ran away.
When they reach the top of the stairs
You reach the top of the stairs, ram open the hatch and jump out just in time to see the column of flames that almost burned you all to a crisp. You come to and look around. The hall is still full of tourists, staff and guards but all are literately frozen in place. No one around you is moving until you see one person that does. A large man approaches you. He has a bit of a chubby face, purple eyes, black hair and is wearing a tiger-striped Hawaiian shirt and purple running shoes. He finishes off a diet coke and throws the can away which disappears with a soft 'pop'. "Amazon, take your belt and leave. I suppose I've had it long enough.." At first Hella seems to want to protest but then grabs her things and leaves. The man turns to you and says: "And what do we have here? Demigods working against a god! What are your names?"
"[Repeats the names wrong]. Well then.. you have a lot more respect to learn, among other things. I will think of a fitting punishment for you destroying my private collection.. For now go back to what you were doing, but I will expect to see you this summer. I will see you at Camp Half-Blood."
Enjoying this preview?
Find the full adventure in the shop. It includes printable documents of:
– An easy access, print ready version of this adventure
– 8 designs of the playable characters
– 4 designs of the creatures in this adventure
– 3 battlemaps
– 9 Quick start character sheets
All stats, attacks and any further mechanics of this one-shot are available in the product.